Ways To Get Involved
Parent Support Network is committed to promoting public awareness and educating policy makers about policy and practice changes needed for meeting the strengths and needs of individuals, children, youth, and families with behavioral health needs. We are always looking to recruit youth, young adult, adult, and family leaders who have had lived experience to help us conduct outreach and participate on state policy, advisory boards, and other committees, focus groups, and activities that provide an opportunity for input and feedback. We provide ongoing opportunities to build family, youth and adult consumer voice and leadership.    
We have started the PSNRI Family & Youth Advisory Board in an effort for families, youth, young adults and our allies to organize and promote system transformation in policy and practice in order to meet the needs of children, youth, young adults with behavioral health challenges and their families. This Board meets monthly virtually and all meetings are recorded and are available to you to listen to. Join us on the second Thursday of each month 6pm to 7:30pm on Zoom. For more information or to get involved please contact Kyle at k.delaney@psnri.org or Kaila at k.coutis@psnri.org.
Parent Support Network engaged families and allies to participate in a policy academy aimed at beginning to organize as an advisory board, increase skills and knowledge, and develop a state action plan to promote policy and practice change in children's behavioral health. Listen to the videos of our four sessions and learn more about our key priority focus areas here.
PSNRI Family & Youth Advisory Board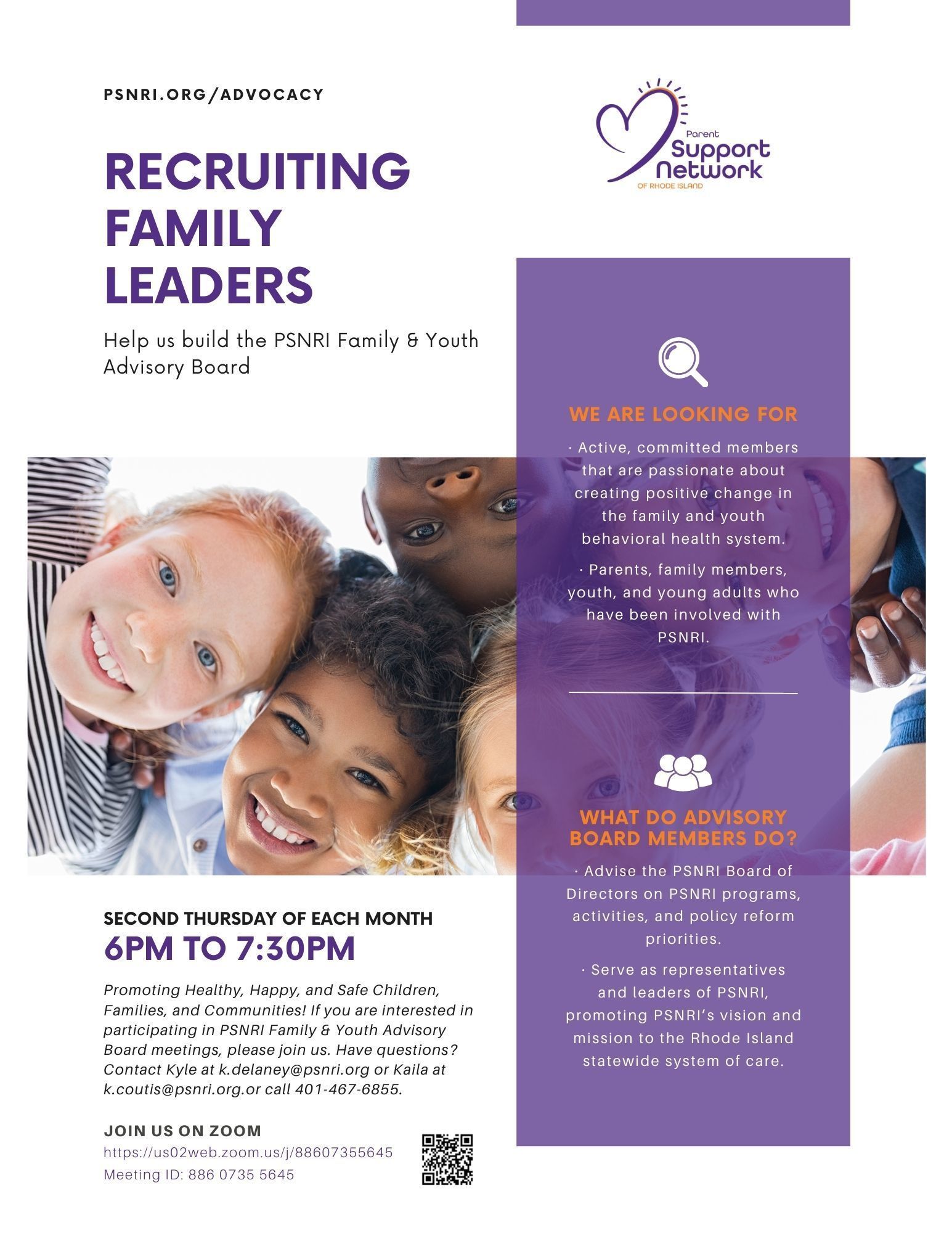 As of July 14, 2022, can join us online or in person at 535 Centerville Rd, 3rd Floor, Warwick, RI